Globe Technologies is the premier manufacturer of the highest-quality fusible links for the fire protection industry. Our fusible links are used as thermal release mechanisms in many applications, including the actuation of fire extinguishing systems for restaurant cooking areas, or industrial fire protection systems, fire doors, fire dampers and roof fire-smoke vents. Our products comply with Underwriters Laboratories, Inc., Factory Mutual Research Corporation and NFPA Requirements. With various operating temperatures from 135° F to 500° F and all industry standard load ratings, Globe Technologies is your link for quality and dependability.
Introduction
Globe Technologies is the premiere manufacturer and distributor of the highest-quality fusible links and release mechanisms. For more than four decades we've provided excellent service and a total commitment to our customer base stretching worldwide.
Globe Technologies produces high quality products made in the U.S.A. to the exacting standards of Underwriter Laboratories, Factory Mutual Research, and a ISO 9001:2015 accredited Quality Management System. We operate our own stamping and production facility in Standish, Michigan where our design and research personnel develop and solve special application problems for our customers. Most importantly, everyone at Globe Technologies is dedicated to serving our clients and solving their unique problems.
To Our Customers
We deliver to fire equipment manufacturers and wholesalers or resellers.
Globe Technologies has an extensive stamping facility, machine shop and test facility. If you have a need for these services please let us know.
We welcome the opportunity to work with you. If you have any questions or need additional information, please give us a call.
We are sure that after looking through our website you'll agree Globe Technologies can offer you the best services in the industry!
Quality Management System
On September 29, 1999 Globe Technologies Corporation achieved its goal of ISO9001 registration from Underwriters Laboratories, Inc. On May 18, 2018 Globe Technologies Corporation's quality management system was audited by registrar DQS and achieved the status of ISO 9001:2015 certification. This registration solidifies our commitment to you, the customer, to manufacture the highest quality fusible links and plugs with exceptional customer service.
Globe Technologies Corporation quality policy is: "Our Success Depends on Producing Quality Products that Result in Our Customer's Satisfaction."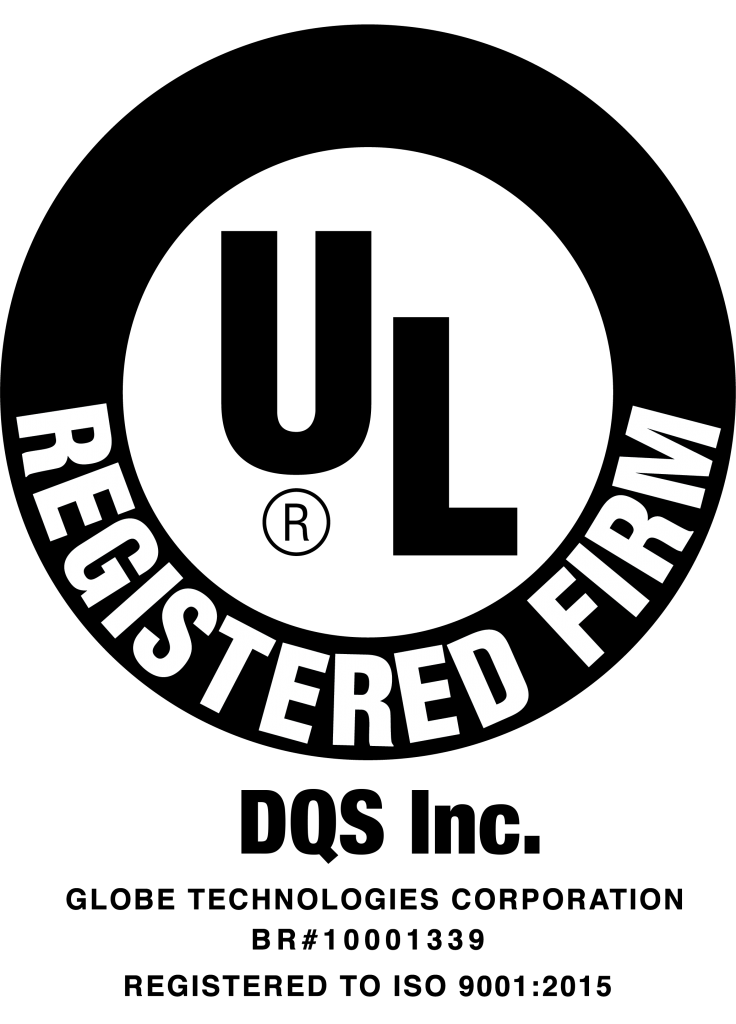 Our facility has been registered by DQS Management Systems/ Underwriters Laboratories Management Systems Solutions to the International Organization for Standardization ISO 9001:2015 for quality.
Warranty
GLOBE TECHNOLOGIES warrants that our products are free from defects as to workmanship and materials, when used in accordance with their approval listings and the restrictions and cautions that apply. Our obligation under this warranty shall be limited to replacing, at our plant, any parts thereof which shall, within one year after delivery to the ORIGINAL PURCHASER, be demonstrated to be defective. In order to accomplish the demonstration of defectiveness, the parts claimed to be defective must be sent by the original purchaser to Globe Technologies, 1109 W. Cedar, Standish MI 48658. Globe shall not be liable under any terms of this warranty if the defective part is not submitted to Globe for inspection. This warranty does not extend to consequential damages of any nature. THIS WARRANTY IS EXPRESSLY IN LIEU OF ALL OTHER WARRANTIES, EXPRESSED OR IMPLIED, INCLUDING THE WARRANTIES OF MERCHANTABILITY AND FITNESS. No person, firm or corporation is authorized to assume for us any other liability in connection with the sale of our products.